Background
With the increasing number of ATM in the country, the Financial Supervisory Commission (FSC) in Republic of China wishes to
enhance the domestic financial security
, and order every financial institution to make sure that their ATMs are
able to function 24 hours without any service disruption
. In order to comply with the FSC Act and to uphold the principle of steady development, making sure that the industry's asset quality and risk management capability is better than the rest. One of Taiwan famous financial holding company decided to implements customer-oriented business management mechanism by replacing the entire existing HiLink bidirectional 512 Mbps VPN line router, and
install additional 3G wireless as backup line
. Using wireless connection, financial institution can effectively solve the physical network disconnection problem, providing 24 hours uninterruptible financial service.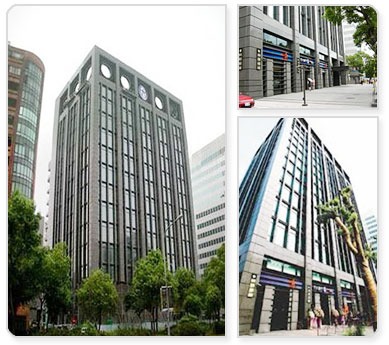 One of Taiwan famous financial holding company.
Customer demand
When the financial holding companies try to come out with a complete solution, it needs a
high stability 1xWAN/1xUSB/4xLAN router
. The security of the data transmission is very strict in the banking system, therefore the key to solve the security problem is the banking transaction system applications itself. Data transfer method must effectively protect data in a secured and reliable way, to ensure the safe and stable operation of the system.
The security of the data transfer mainly prevent internal and external sabotage to the system, the router will
perform identity authentication and verification, and also verify digital signature to prevent intrusion and tampering to the bank system.
In addition, transaction data encryption and decryption is another important means of protecting the security of the network.
The existing HiLink bidirectional 512Mbps VPN line encoding has encryption protection on data transfer, thus the transmission channel itself is safe. In addition, u
sing GRE Tunnel technology on 3G wireless network
to create transmission channel is able to ensure the bank main terminal line is backed up in a secured and reliable way.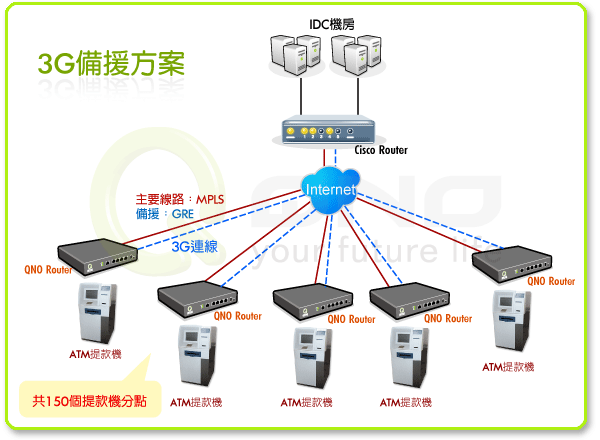 QNO Inc.
is a well-known Taiwan SMB Router manufacturing leader. In response to the high-speed broadband era's demand, they developed a range of high quality, multi WAN, bandwidth management, firewall, and VPN network security equipment. QNO router with 3G capability has 4 modes that can
provide highly efficient operation, offer backup, smart automation and time schedule
.
The router's backup mechanism can
specifically
allow certain WAN port connection that
failed
to start
using 3G internet access as a backup line
, maintaining the ATM's connection. It is similar to smart automation backup, and it can set even more advance settings. Besides connection failure, it also can base on Multiprotocol Label Switching (MPLS) traffic, enable 3G network to
assist in traffic sharing.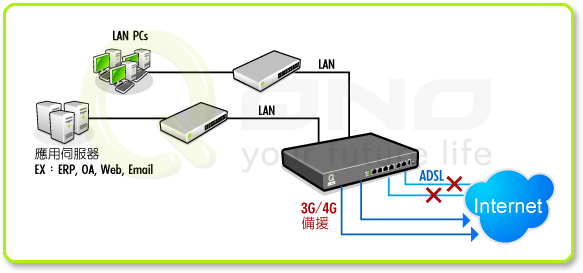 New generation
3G/3.5G
wireless
network
features
for network backup. O
nce
disconnected
automatically
establish a connection.
In terms of ATM application, besides providing 3G backup implementation,
QNO has a unique USB power-saving mode;
it can
extend
external 3G network card's
life span
. Most of them who uses USB wireless card will not remove it after inserting it. Using the USB device for a long term will render the device to be
faulty
. This function can
dynamically adjust the USB power, saving USB power and extending the device's lifespan.
Able to continuously operate is considered as high efficiency operation, the QNO router does not only perform energy saving,
but you can schedule what time should it turn off,
for example, working days from Monday to Friday, and non-working days to allow the USB wireless LAN at rest.
Overall, although the 3G backup network's bandwidth is less than a wired network, but it's an effective way of diversifying the risk, thus ensured that the enterprise's important information system will never have down time.
In addition, enterprise that emphasize on information security
can also use VPN to ensure the security
of the wireless network. The combination of wired and 3G wireless network is the best backup mechanism.
QNO
has been very active in R&D and they have developed backup solutions that has
simple interface and uses 3G network making it high in stability, a complete application and operational solution
that finally won the trust of the financial holding companies.
Conclusion
In recent years, the network applications in various fields have constantly expand, wireless application for various industry are increasingly being used. Now the bank uses 3G wireless networks to build a wireless networking system.
Under safe environment, building a wireless backup system for bank has greatly expanded and further expansion of mobile data application area and banking sector.
Pairing
QNO
and bank industry product, an all rounder router that can fulfill the fiber optics broadband era demand,
combined with

the

integrated

multi line

,

broadband

management

, firewall,

anti-hacking

and

virus attacks

to provide a high-quality ATM service.
(original source before translation: http://www.qno.com.tw/web/events_view.asp?e_id=209)